Here is a visual representation of how the RAD Co-op accomplishes its purchasing and delivery.
| | |
| --- | --- |
| | im |
RAD Co-op brings healthy food to Walsh County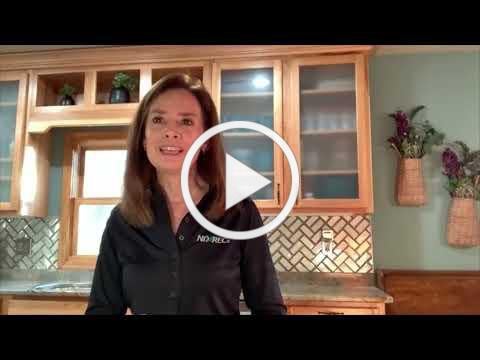 The North Dakota Rural Electric Cooperative Foundation has received funding from the Blue Cross Blue Shield of North Dakota (BCBSND) Caring Foundation to bring accessible and healthy food options to Walsh County through the Rural Access Distribution (RAD) Cooperative. RAD Cooperative is a shared services cooperative, or redistribution hub, comprised of three grocery stores, one bar and restaurant and a community development organization from five communities in northeastern North Dakota — Park River, Hoople, Edinburg, Adams
RAD Cooperative has scheduled expanded delivery throughout the county and is in the process of installing climate-controlled grocery locker systems in Fordville and Adams. Soon, community members can buy local products by ordering online using a secure purchasing platform.
To learn more about this project,
---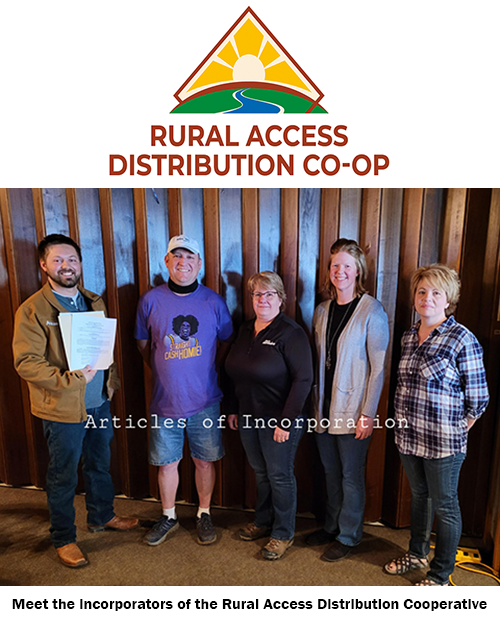 About the Walsh County Distribution Hub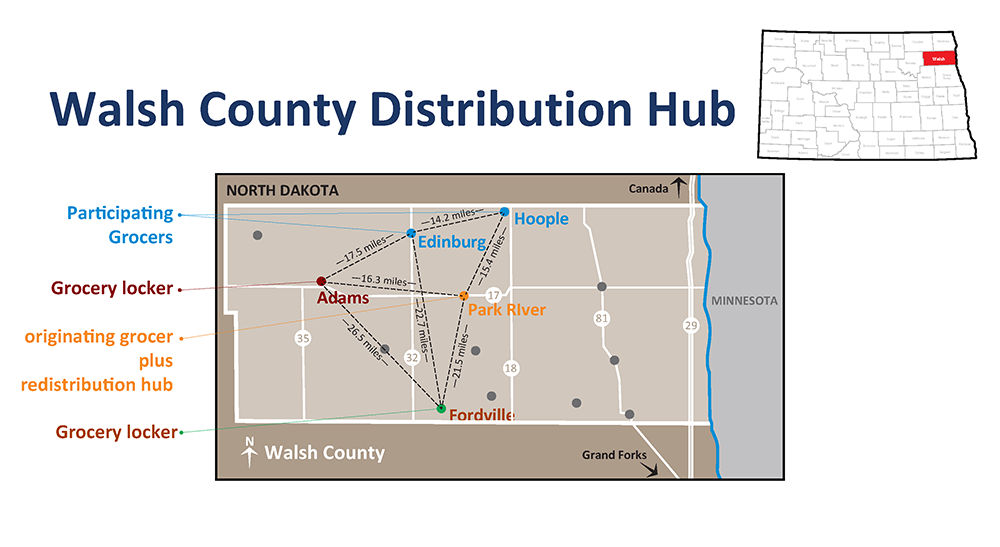 Park River is the dedicated redistribution hub. By redistribution, we mean in and out the same day, it is not a warehouse.
Hoople and Edinburg are communities with small, existing grocery stores. One is independently owned, and one is community owned. Park River, Hoople and Edinburg will place their orders collectively and that order will be delivered to Park River by the supplier. This step does not require any investment. Park River has adequate sorting space and space to hold frozen and refrigerated foods during the sorting, pre-delivery time period. We have been able to document an average 14 percent price difference on wholesale food products between stores 15-20 miles from each other simply based on volume. This collective purchasing increases the total volume, improving the price for all communities. It will also help improve variety as stores will be able to partner in the purchase of cases at a volume discounted price.
Fordville is a community without a grocery store, but an individual living there is interested in a climate-controlled grocery locker system. Fordville could simply join the collective purchasing group rather than worrying about attracting a supplier. Again, the increased volume would benefit all.
Adams is another community without a grocery store. They are also interested in a climate-controlled grocery locker system. This system includes lockers that hold ambient, frozen and refrigerated products, an online ordering software system and a climate-controlled delivery truck. The people in Adams would be able to place their orders online via a credit card transaction to Park River. Park River would deliver the products to the locker and send either a text or email message informing the customer the product has been delivered and assign them a code. The customer goes to the lockers, enters the code and the assigned doors pop open. Once the product is picked up, the store receives confirmation that the transaction is complete.
By including the locker system in the redistribution hub, we will bring one small store online, we will have a delivery truck for the hub, and we will possibly bring healthy food access to two small communities without.
We anticipate this could also be a way to hub local foods - where suppliers of local produce, bakery items, inspected meats, or other items could deliver to the hub to have their products delivered on the same truck as the conventional wholesale products. There could be other business partners, for example a local pharmacy.
---
Keeping Groceries Alive Webinar Series
Grocery stores are critical businesses in rural communities: they serve as essential sources of healthy food, they drive local economies, and they provide space for community members to gather and connect. 
 
So, when a grocery store closes, the community loses out. In order to maintain vibrant rural grocery stores over the long-term, grocers and communities must plan ahead. 
 
This eight-part webinar series presents the steps for completing a successful grocery business transition. In many cases, some form of community or shared ownership model provides a viable opportunity for maintaining a vibrant rural grocery store. Each webinar explores a different topic pertinent to successful business transitions.
Webinar Topics
Click on the links below to find the recording, slides, and additional materials for each of the webinars in the Keeping Groceries Alive Webinar Series.
1. January 28      Grocery Business Transition Planning: An Overview 
2. February 4       Understanding Grocery Ownership Models 
3. February 11     Preparing for Business Transition 
4. February 18     Assessing Markets & Community Needs 
5. February 25     Planning your Business 
6. March 4           Funding the Transition 
7. March 11         Recruiting Store Managers 
8. March 18         Mastering Grocery Store Nuts & Bolts
Sponsors and Partners
This webinar series is sponsored by the Ewing Marion Kauffman Foundation through the Heartland Challenge.

Presented by the Rural Grocery Initiative, in partnership with Kansas State Research and Extension, NetWork Kansas, the Kansas Rural Center, the Food Co-Op Initiative, and the Kansas Center for Business Transition.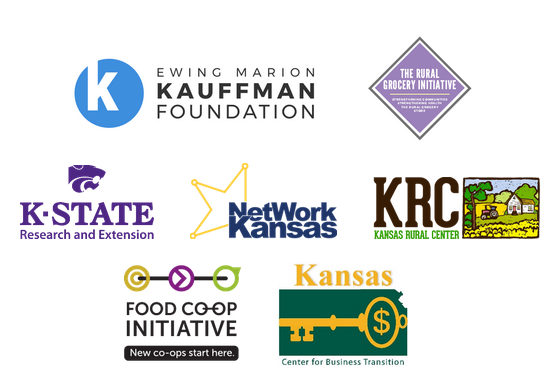 ---
Resources available to connect local growers and grocers
Recent supply chain interruptions are providing an opportunity for local producers to connect with North Dakota grocery stores to ensure residents in the state have a consistent supply of healthy foods throughout the summer.  In light of the Covid-19 Pandemic, there have been concerns expressed over whether grocers will be able to receive all the fresh produce they need for their customers. 
The North Dakota Association of Rural Electric Cooperatives has partnered with the North Dakota rural grocers, the North Dakota Grocers Association, and Dakota College at Bottineau Entrepreneurial Center for Horticulture to bring resources and information to local growers and grocers.  An informational video was created by this joint effort to show both grocers and growers alike how easy it is to collaborate, giving the growers a local outlet to sell their produce and the grocers a way to provide affordable, local produce to their customers.  More information can be found at https://www.ndsmallfarms.com/.
To view the video please visit this link: https://www.ndsmallfarms.com/farm-to-grocery.html
For more information or media availability on this topic, contact Quinn Renfandt, Director of the Entrepreneurial Center for Horticulture, Dakota College at Bottineau at 701-681-0252 or quinn.renfandt@dakotacollege.edu.
When The Local Grocery Store Failed, These Folks Stepped In To Lend It A Lifeline
Competition with chains causes rural grocers to fear the future
 
Help for your bottom line. That's what you will find at: https://www.ag.ndsu.edu/smallbusiness